Yes, there really are "JDM" Saturns.
Saturn exported the S-Series to Japan from 1996 (1997 model year) to 2000. JDM means "Japanese Domestic Market" and refers to OEM parts in Japan. These are not necessarily performance parts or fancy appearance parts, though those parts are often the point of interest for tuners that seek out JDM parts. In the case of JDM Saturns, there are no high performance parts – the drivetrain components are essentially, if not exactly, the same as their US counterparts. There are some unique characteristics of the JDM Saturns, though, and I have tried to collect some basic information about them below.
General Facts:
Sales – Saturn supposedly sold 4324 vehicles in Japan. This does not include numbers for the RHD postal wagons sold in the US.
RHD Saturns – Saturn sold RHD (right-hand drive) models in Japan, and also in the US. The US versions were all automatic SW1s for postal service.
SW-P – Saturn sold RHD SW1s in the US for postal service. They are generally referred to as "SW-P"s
RHD Specific Parts:
– Dashboard – both 2nd and 3rd gen interiors were made for RHD
– Steering rack
– Automatic Gear Selector
– "Breakaway" Mirrors – These mirrors have the pivot point in them so they fold in for tight parking and to help prevent the mirror breaking if it is hit.
– Window Switches – The window switches are more flat than the curved US window switches (see below).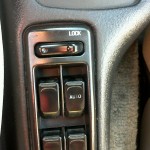 – Hazard Light button – In the 2nd gen RHD interior, the hazard light button is located on top of the center stack, instead of on top of the steering column.
– KPH cluster – Ok, this one is a stretch, since the kilometers cluster is used for the Canadian market as well. As far as I know, they are the same cluster, but there may be some small differences.
– License plate bracket
– Power mirror controls
Example Galleries:
SC2 with manual transmission
SW2 with automatic transmission
SC2 with automatic transmission
Articles:
Saturn Car Sales Fail in Japan
Date: 2002?
Source: HowStuffWorks.com
Has the Tide Turned for Saturn?
Date: June 1999
Source: Japan Auto Trends
Saturn Leaps Into Japan's Most Competitive Market Segment
Date: June 1997
Source: Japan Auto Trends
In Japan, Saturn Signs Car Dealers
Date: July 9, 1996
Source: The New York Times
Profile/Jiro Yanase; Selling Cadillacs in Japan
Date: Dec 27, 1992
Source: The New York Times